BioTherapy, which is short for Bioenergy Therapy, which is healing with use of bioenergy.  The method of Bioenergy healing is very old (over 5000 years) and has been used in practically all continents, by all societies and nations.  What used to be limited knowledge to witch doctors or shamans among all tribes, is now days a very useful knowledge that can be acquired through seminars and build to a level, where healing is very effective, with continuous practice and spiritual growth.  There are many names that are used for Bio-energy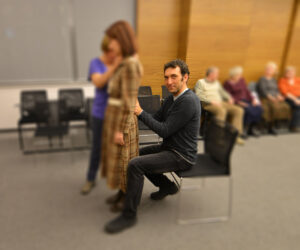 , like chi, qi, prana, bioplasma, life force, and others among different languages, but they all general describe same bio-energy.  Bioenergy is present in all living beings, it's all around us and its coming from universe, earth, from one physical body to another, from plants and other energy sources.  Every human being, as well as animals is wrapped with this cloud of energy that we call aura.  There are many different layers of aura or energy that surround our bodies, each with slightly different frequency and connection to different level of conscious. Just as our body consist of Aura, same principles holds for our main internal organs which all carry individual aura.  Most commonly known system, describe this energy vertices as chakras.  We have 7 chakras each representing different part of body and different aspect of spiritual being.
Healing, that is conducted by Bio-therpist or Bioenergy Healer, makes use of healers own bio-energy potential to discover anomalies in patients energetic body (Aura) and then applies healing through the process of balancing bio-energy.  Most frequently there are irregular spots or parts in bio-energy field that directly relate to one or more energetic centers (chakra), which is further linked to physical organ, where illness is manifested.  The procedure of healing follows simple mechanism to restore balance in energy field locally at chakra levels an then in whole energetic body (Aura).  This way physical body can start healing through the use of stabilized energy field and restored energetic and physical circulation. Biotherapy healing is very efficient, and mostly used with patients, that have tried all possible methods, including orthodox medicine, but their health status hasn't significantly improved.
Main advantages of use biotherapy (bio-energy healing) are:
no side effects (absolutely none)
it simply works without need for patient to believe in it or know anything about it
health improvement can be seen right away, systematically in 1-2days
works just as well remotely
In Slovenia and wider territory of ex Yugoslavia, the most known and basic founder of biotherapy method is Zdenko Domancic.  He is using this method for over 30 years and developed entire system of techniques and recipes for individual illnesses. Biotherapy method according to Zdenko Domancic is very successful and spread out, as he teaches the method in seminars regularly along with his team of therapists.  This way knowledge is getting transferred and developed even further by hundreds of therapist regulary using it to help others to heal.  Almost all Bio-therapists in this region have seen or learned from this knowledge, and biotherapy according to Zdenko Domancic is very known to them, and most of them started from this method and then adapted it according to their own way of healing
Therapies are normally performed in 4 day cycles, so that each patient receives 4 individual therapies.  Effectivness of biotherapy is much greater in group therapies, where healing begins as soon as you enter the room.  Most patients confirm strong positive effects even after individual treatment.